About Us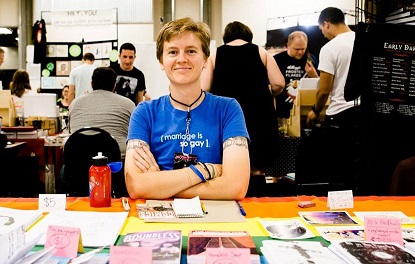 Hello! We're LB Lee! We've been making mental health comics since 2007, and our work is used by mental health providers in four different states! Nice to meet you.
An Interactive Introduction: Sneak made this little intro to us in Twine. It talks a bit about us as individuals and our headspace.
Rude Things to Ask Loony-Brain: Have you ever feared asking us a rude question? Well, fear no more! We have listed all the most common rude questions we have been asked and put all our answers here so you both get your answer and understand why you should never ask us that again.
Okay Things to Ask Loony-Brain: Now that you've gotten all your rude questions out of the way, here's a very thorough primer on all the more common questions we've gotten that aren't rude. Some of them are us-specific; some are more general. (Note: this is MUCH longer than Rude Questions.)
If you prefer comics to text, you can also read our super-old 101 comics, MPD for You and Me and Questions. They're outdated, but some folks seem to like having the visuals and knowing how we appear to ourself.
What pronouns/names do I use for you? "They" and "LB" is fine for most professional contexts. If folks are speaking to/about us individually, we prefer our individual names and pronouns, listed in the Interactive Intro. We ourself, depending on the context, will switch between plural and singlet pronouns--English grammar wasn't built to hold us.
About Our Work
LB's CV: Our resumee.
LB's Events Schedule: We're a mainstay at local comic cons, craft fairs, talks, and panels. Come check us out!
Our Wholesaler/Retailer Catalog.
How do I cite you? As LB Lee, please. If you'd like to cite a specific system member, "So-and-So of LB Lee" is fine.
For cataloging purposes, do I use LB Lee as an author name, or a group name? Author name is fine. Thank you for asking!
May I make fanwork of your fiction? Yup, that's fine! Fanfiction and fanart delight us. Every once in a while, people draw pictures of our system members too; we'd prefer you ask permission first, in that case, if we don't already know you.
Are you on Facebook/Twitter/etc? Nope. We have our blog and our email. That's it.
Are you available to speak at my event/class/group? That depends on our schedule, but probably yes! You should open up communications with us; we'll see what we can do.
Questions? Comments? Opportunities? Drop us a line at loonybrain at healthymultiplicity.com!